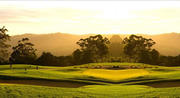 Guests can enjoy a golfing experience of a lifetime at The Mount Edgecombe Golf Estate near Fairway Lodge .
Accommodation at Fairways Lodge is in beautifully decorated suites
KwaZulu-Natal offers a range of exciting activities to suit all
Mount Edgecombe Country Club is one of South Africa's premier golf courses
Offer high-tech conference rooms
Your Fairways Lodge Golfing Experience
Stay at the luxurious 5 star Fairways Lodge, while enjoying the good climate and excellent golf facilities at this golf course in KwaZulu-Natal. The Mount Edgecombe Golf Estate boasts its own driving range, giving you all the practice you need for a successful and satisfying golf experience. Fairways Lodge is ideally located close to some of the top golf courses in South Africa. There are 2 golf courses ranked in the top 10, and 3 in the top 30, all within half an hour's drive from the Lodge.
About Fairways Lodge
Fairways Lodge sits quietly in the rolling hills of Durban. Fairways Lodge is situated in close proximity to Mount Edgecombe Country Club Golf Estate, one of South Africa's premier and most prestigious golf estates. Fairways Lodge enjoys spectacular views over the tenth fairway of Course Two. Here guests will be able to enjoy a world class golfing experience in complete luxury, with excellent accommodation, fine cuisine and exciting activities to suit all needs.