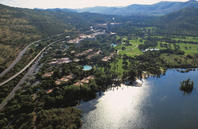 The Gary Player Country Club tests the grit of many a fine golfer. This Sun City golf course was designed by South African golf legend, Gary Player.
Gary Player Country Club Golf Course
The Gary Player Country Club Golf Course is acknowledged as a difficult and demanding course. Since 1981 it has been home to the Nedbank Million Dollar Golf Challenge. This Sun City golf course requires stamina and accuracy from players.
The comparatively flat nature of the golf course is misleading - water hazards, cunningly sited bunkers and pins hidden away on kidney shaped greens makes up for the lack of gradient.
Off the back markers the course measures over 7 000 metres, which makes it one of the longest in the world. But a variety of tees make it possible to shorten the course and render playable for all levels of golfers. With pristine perfect kikuyu fairways and excellent bent grass greens, the course is kept in perfect condition all year round.
A feature hole? Well they're all good at this golf course in South Africa, but for risk and reward the stand-out is the 9th. Play this par 5 from the forward tees and then have a go for the island green with your second and thrill to the challenge of this superb test of golf in South Africa.
Gary Player Country Club Restaurant
The Restaurant serves a full English breakfast as well as a breakfast buffet. There is an a la carte lunch and snacks and toasted sandwiches are served in the afternoon. Open daily. The restaurant is open for breakfast at 07am - 11am and for lunch at 11am - 19pm.
Clubhouse
The Gary Player Golf Course club house offers the usual facilities, including golf carts, change-rooms, lockers, bar and restaurant.
Golf Lessons
Improve your golf skills and knowledge in South Africa - professional lessons are available at the Lost City Golf Course. Private instruction and group lessons are provided. Driving Range lessons range from 30 - 45 minutes and playing lessons over 9-holes with an instructor.
Driving Range
There is a driving range situated at the Lost City Golf Course and it is 235 metres in distance. You are provided with 40 balls.
Green Fees
Residents of Sun City and non-residents can utilise the facilities and green fees include halfway house lunch.
Caddies are compulsory
at an additional fee.
Pro Shop
Sun City's Pro Shop stocks golf clubs, exclusive attire ranging from Ashworth to Alfred Dunhill and other golf accessories. There is also a range of quality logo attire.