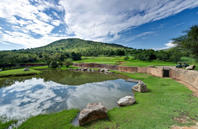 Designed by Gary Player, the Lost City Golf Course at Sun City Resort in South Africa offers you the challenge of championship level...
Lost City Golf Course
The exotic allure of the Lost City Golf Course and the championship nature of the Gary Player Country Club test the grit of many a fine golfer. Both of these Sun City golf courses were designed by South African golf legend, Gary Player.Golfers are astounded by the breathtaking beauty of the par-72 Lost City Golf Course. The rich green fairways give a dramatic contrast to the bushveld backdrop and the barren waste bunkers are a special feature of this intriguing Sun City golf course.The desert style design of this golf course in Sun City has an exotic allure all of its own and designer, Gary Player has acknowledged it as one of his favourite golf courses.
The most hazardous area of the Lost City Golf Course is the 13th hole. Inhabiting the water hazard are 38 Crocodile, some of them nearly 2 metres long. Golfers are discouraged from retrieving their wayward balls from the Crocodile infested pool.
The unusual water hazard is just one of the features that make the Lost City Golf Course exciting and interesting to play. No effort was spared to make this Sun City golf course a masterpiece.
Playing the back 9 is like going on a golf safari. It has often been noted that the game is more exciting when played downhill and this is certainly the case here. In addition to the previously mentioned 13th, holes 11, 14, 15 and 16 are all played from elevated tees offering thrill, excitement and challenge to the golfer.
Lost City also offers the most spectacular African views to be seen on a South Africa golf course. On the whole a round at Lost City is an experience which one will not easily forget. But it doesn't end with the golf.
The Clubhouse
Sun City's Clubhouse offers the usual facilities, including golf carts, change-rooms, lockers, bar and restaurant.

Crocodile Lounge
Make sure you allow, for time, for an after round sundowner at the Zimbabwe Ruins style clubhouse, which overlooks the 9th and 18th greens. If you're looking for an out of Africa experience, this is it. This informal restaurant serves a light a la carte menu daily from 11am - 15pm. Crocodile Lounge is open daily; breakfast is at 07am - 10am, lunch is at 12pm - 15pm and snacks are at 15pm - 18pm. Sun City's Halfway House is open at 10am - 15pm.

Golf Lessons
Improve your golf skills and knowledge at the Lost City Golf Course. Private instructions and group lessons are available. Driving Range lessons range from 30 - 45 minutes and the are also playing lessons of 9-holes with an instructor.

Driving Range
Sun City's driving range is 235 metres in distance and you are provided with 40 balls.

Pro Shop
Sun City's Pro Shop stocks golf clubs, exclusive attire ranging from Ashworth to Alfred Dunhill and other golf accessories. There is also a range of quality logo attire.
Lost City Golf Course Accommodation
Read more about
Lost City Golf Course accommodation
.