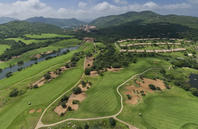 The Lost City Golf Course at Sun City Resort in South Africa is flexible; playing off the forward tee a course length of 5 953 metres, extending to 6 983 metres off the back tee. The Lost City Golf Course provides spectacular views of the Pilanesberg Mountains.
Hole 1 - Par 4
Stroke 14 - Length 382m
Straight up and down - that's all you gotta do. Strong Par 4 - by staying out of the well placed fairway bunker and have a medium iron into a 3 tiered green with bunked in all the right places. Comfortable starting Hole.
Hole 2 - Par 4
Stroke 6 - Length 422m
What a "waste" of a bunker! Another solid Par 4 -stay away from the large waste bunker on the right and put your drive down the left side of the fairway leaving you with a tricky short iron to a plateaued green. A deep frontside bunker will make for a tough up-and-down, rather be a little long.
Hole 3 - Par 3
Stroke 10 - Length 180m
Wanna bring your fishing rod along? Treacherous Par 3 - rock solid tee shot over a large pond to a bean-shaped green. Make sure of your yardages because the deep backside bunkers await an over club.
Hole 4 - Par 5
Stroke 18 - Length 480m
A genuine Par 5 - that requires 2 big hits to get home. Your second tiered green well protected by 3 large greenside bunkers. A birdie is a definite change.
Hole 5 - Par 4
Stroke 12 - Length 369m
Go big or go home! Enticing but short Par 4 - where driver is dangerous but well rewarded. A deep pot bunker that will cause a lot of heartache protects the shallow green.
Hole 6 - Par 4
Stroke 4 - Length 390m
Tough?...No.... Real Tough! An extremely touch dog-legged uphill Par 4. Deep front-side bunkers require a long drive staying away from the strategically placed fairway bunkers with a tough second to an elevated green well-guarded. A par is a good score.
Hole 7 - Par 5
Stroke 8 - Length 518m
It's a long way to the...green! Long straight Par 5 - keep your drive away from the massive fairway bunker to the right. Leaving yourself 250m to the green off the large landing area. An immensely deep green side bunker guards the green.
Hole 8 - Par 3
Stroke 16 - Length 175m
Seriously challenging Hole after reaching the summit, take in the view of the Zimbabwean Ruins Clubhouse and majestic Palace of the Lost City hotel, the Hole is all downhill from here. Once again the green is guarded by well positioned bunkers but a precise tee shot will leave you with nothing but a birdie putt.
Hole 9 - Par 4
Stroke 2 - Length 450m
Teeing up on the 9th tee can be more breath-taking than first presumed with the cascading water from the waterfall in front of the Zimbabwean Ruins Clubhouse. Keep your tee shot straight and don't be lured into a watery grave down the left. Your approach shot will be long and difficult and should result in you being on the putting surface and not in one of the deep bunkers on the right side of the green.
Hole 10 - Par 4
Stroke 13 - Length 360m
A short uphill Par 4 to the right that requires an accurate tee shot to the centre of the fairway which will leave a short iron to an elevated green protected by two pot bunkers.
Hole 11 - Par 5
Stroke 15 - Length 533m
A spectacular Par 5 - an elevated tee gives you a splendid view of the picturesque Lost City Golf Course below. Fly the fairway pot bunkers and you are left with a real chance of getting home in two. Your second over a fairway bunker is a shallow, 2 tiered green with traps either side will make for an alluring shot. A birdie is a real possibility.
Hole 12 - Par 4
Stroke 17 - Length 332m
Tricky uphill Par 4 - where your tee-shot placement is crucial. Steer clear of deep bunkers down the left and right side of the fairway. Your line of attack will depend on the pin placement, take it on at your own peril with deep bunkers making this a real demanding attack.
Hole 13 - Par 3
Stroke 11 - Length 180m
Our signature
Hole. Your tee shot to an "Africa" shaped green over golf ball eating crocodiles will fascinate you. The green is large but again safeguarded by six deep bunkers.
Hole 14 - Par 4
Stroke 5 - Length 395m
A testing Par 4 - from an elevated tee to a large landing area you will leave yourself a medium iron over a ravine to an undulating green that hugs the mountain side.
Hole 15 - Par 3
Stroke 7 - Length 180m
An amazing Par 3 - over a deep dense ravine where your line of attack will dictate your club selection. Bunkers on the front right and back left defend the undulating green.
Hole 16 - Par 4
Stroke 3 - Length 422m
A daunting Par 4 - that requires a long drive down the right side of the fairway leaving your approach to an impossible T-shaped green with intimidating greenside bunkers on the left and right.
Hole 17 - Par 4
Stroke 1 - Length 430m
The toughest Par 4 on the course. This Hole hugs the Pilanesberg Game Reserve. Everything is uphill - as long as you avoid the fairway bunkers you can get home in two. Your second must stay on the short stuff otherwise a Par is unlikely.
Hole 18 - Par 5
Stroke 9 - Length 485m
An impressive finishing Par 5 - provided that your drive finds the fairway and not the watery grave you found on No. 9. Manoeuvring your second shot through the waste bunkers, your ball should trickle onto a raised green stopping short of the water and greenside bunkers. This Hole should leave you with an amazing birdie to take home with the rest of your fantastic moments of your round.
Sun City Accommodation
See the
Palace of the Lost City Hotel
accommodation near The Lost City Golf Course